Referees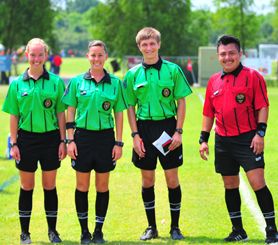 Mission/Vision
Mission
Referee development to improve functioning at the highest levels of the game.
Training and development of referees at all levels of the NorCal Premier structure.
Continue training over 1,000 new referees annually to support our NorCal clubs by sponsoring Entry Level Grade 8 Referee Clinics.
Continue our efforts to ensure that each NorCal club has a certified USSF referee assignor by sponsoring four regional assignor clinics each year.
Provide advanced Assistant Referees training and development clinics for NorCal Premier clubs referees.
Work with interested clubs to develop a solid referee program to meet the specific needs of the club.
Establish the second phase of our Mentoring Agenda by sending NorCal-trained mentors to select league and tournament matches to advance and further train our referees.
Vision
Support our current pool of top officials to achieve the FIFA status (Grade 1 and 2) and be chosen for 2030 World Cup.
Support our current pool of top officials to achieve the PRO status (Grade 3) and have NorCal referees officiate at MLS level by 2024.
Send a group of our top referees to top European tournaments such as Gothia, Paris World Games, and Dana Cup by 2020.
Continue sending our top referees to Development Academy College Showcases, Dallas Cup, Disney Cup International, and US Club NPL and Nationals.
Provide top level (Youth and Adult) games for State and National assessment requirements to continue advancing our top referees.