Youth Premier League Overview
The NorCal Youth Premier League encompasses the vast majority of leagues that operate in Northern California. With over 3,000 teams participating in the U11-U19 ages across multiple divisions of play and regions, the Youth Premier League aims to provide appropriate competition while limiting travel, available year-round to every team in Northern California.
Table of Contents
Click on a topic below to jump to its corresponding section below.
Division Formation Process
The NorCal Competitions Staff works hard to ensure that every team gets placed in an appropriate division that will give them quality games and limit unnecessary travel. To achieve this, follow a multi-step process to solicit feedback and get information about a team to properly place them. When reviewing applications and creating divisions, the NorCal Competitions Staff takes the following areas into account:
Competitive level history & past performance of the team
Team's location
Preferred division reported on the application
Your preferred division request does not guarantee your team's placement in that level of play.
Once divisions are formed, NorCal posts preliminary divisions for feedback to all club leaders, coaches and team managers. This is a final and important check to make sure that teams are placed at the appropriate level. Make sure that you double check your team placement when it is sent out. Once divisions are finalized teams can not be moved!
Levels of Play
The NorCal Youth Premier League features the following divisions (in order of competitiveness and level of play):
State Premier League (U14-U19 only)
Premier
Gold
Silver
Bronze
Copper
It is our aim to have one division per age group per region in each of the levels listed above. Due to the number of teams in different regions and levels, this is not always possible. In general (but not in all cases), when this happens in higher divisions (Premier, Gold) regions will be combined ie: Region 1/2 Premier. When this happens in lower divisions (Silver, Bronze, Cooper) levels will be combined ie: Region 1 Silver/ Bronze.
Seasons
The NorCal Youth Premier League offers year-round competition at all levels, with leagues in:
Fall
Winter
Spring
Summer
Each league is set up individually so that teams can decide which seasons make the most sense for them to participate in.
Awards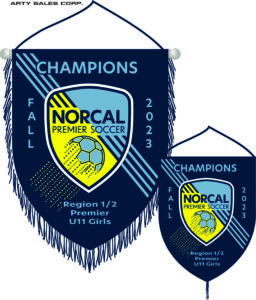 NorCal provides each division winner with team awards, in the form of banners (see photo above). Banners are awarded as follows :
7v7 – 12 small banners, 1 large banner
9v9 – 16 small banners, 1 large banner
11v11 – 22 small banners, 1 large banner
If your team finished in FIRST PLACE in their division, you will receive an email from one of our event coordinators asking you to complete a form with your mailing address so we can send you the banners for your team.
If you do not receive an email, your team has not been counted as the winner.
We will begin mailing awards in mid-December. We know many teams have end-of-season parties before this time; however, we cannot accommodate requests for awards to be sent early.