NorCal Futsal State Cup Returns for 2024
Apply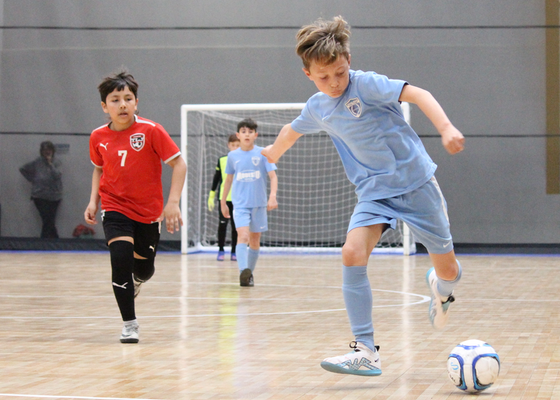 After successfully hosting the competition for the first time last season, NorCal Premier Soccer's Futsal State Cup returns this February during President's Day Weekend.
Applications are now open and can be accessed here.
The second Futsal State Cup's host facility will be announced shortly and will run over a three-day period from February 17-19.
NorCal is recommending that those who wish to apply do so ASAP as last year's event quickly sold out. The second NorCal Futsal State Cup will feature double the teams as the prior, but is still expected to sell out as well.
The competition serves as yet another way to get more youth players interested in futsal, a variation of soccer that helps develop individual technical skills in a fast-paced environment.
"From the very beginning of introducing futsal competition, our aim has been to help clubs establish futsal programming by providing a futsal season that fits the needs of clubs," said NorCal Premier Soccer Director of Competitions Daniel Chamberlain. "This year we are excited to once again host the NorCal Futsal State Cup, and drastically expand the futsal opportunities for teams in Northern California."
NorCal plans to continue building out its futsal programming, with the eventual goal being the creation of a full season during the winter months of play.
About Futsal
A five-on-five, fast-paced variation on soccer, futsal was first invented in South America in the 1930s.
The sport uses a heavier and smaller ball and is played on a hard surface roughly the size of a basketball court. Unlike indoor soccer, there are no walls with futsal and the ball can travel out of bounds, forcing players into a more game-like situation in the small confines provided.
For decades youth players in South America got their start in soccer by playing futsal, the game has spread globally in the past few decades, with FIFA staging the first men's Futsal World Cup in 1989 and the first Women's Futsal World Tournament in 2010.
Proponents of the sport credit it for helping develop close control, dribbling, and quick passing skills thanks to the conditions the sport is played under.
Several world-class players like Lionel Messi and Xavi cite playing futsal as one of the key components of their development.
"Futsal helps a lot because you need to think quickly," Brazilian superstar Neymar told UEFA.com in 2020. "It's a more dynamic game and today in Europe, there's not much space so you need to think quicker and futsal has helped me a lot with that. Futsal is one of my passions."
Added retired Brazilian legend Ronaldo: "I needed extremely good feet (to play futsal), because you're always attempting to beat opponents in the minimum of space. I loved the challenge of playing on such a small pitch."
For more information about futsal in NorCal, click here.